An update to NoteWorthy Composer Version 2.51 has been released as version 2.51a. You can upgrade your currently installed copy of NoteWorthy Composer 2 by opening it, then select the Access NoteworthySoftware.com command in the Help menu. You will automatically be directed to the page where you can download and install the NoteWorthy Composer 2.51a upgrade.
Version 2.51a fixes an issue with the Tools, Options, Folders area. The Auto Save and Instrument Tree folders were maintained incorrectly in version 2.51. After upgrading to version 2.51a, it is recommended that you review your current folder settings. The admin user that installed the update will receive a reminder to check this automatically, as shown below: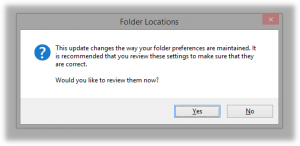 We recommend that you confirm the locations for both the Auto Save/Recovery and Instrument Trees folders.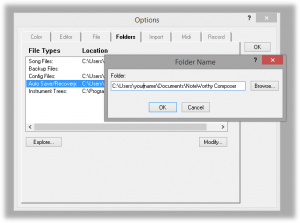 If there are multiple user accounts on your computer, other users should manually confirm their folder settings by visiting Tools, Options, Folders.
---
NWC Viewer 2.51a
The NWC Viewer has also received an update to version 2.51a. A new live transpose feature has been added which can be used to raise or lower the pitch of the non-percussion parts of the performance by a selected number of semitones: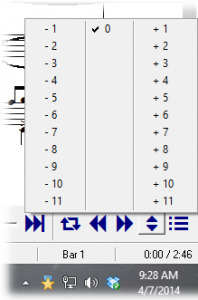 A button has also been added for quick access to the Mute List feature of the Viewer. It enables one or more parts of an open nwc or nwctxt file to be muted in the performance, including while the performance is ongoing.